Life is not fair to anyone. Today, numerous people are struggling with depression and anxiety issues due to life stress. However, it doesn't mean that people should behave in a horrible way. No doubt killing anyone is not a solution to any problem and crime will never pay you in good form. Who is Brandi Worley? A terrible Brandi Worley story raises a question that a mother can be cruel?
Brandi Worley mother of two kids from Indiana wrote the darkest history of motherhood. No doubt her horrific criminal act was a dreadful surprise for the whole society.  Even, we can't imagine that a mom can do this with her own hands.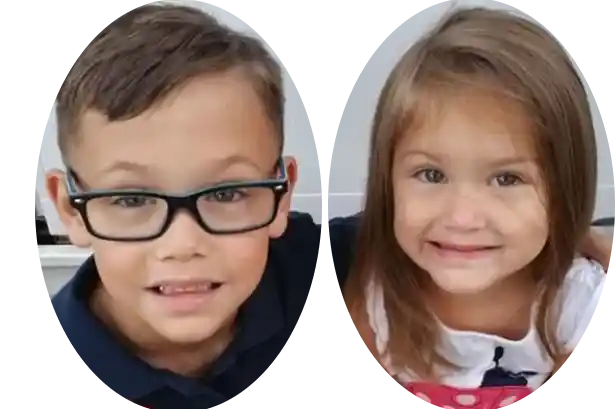 Brandi Worley Crime
Brandi Worley Indiana citizen has been part of the news due to her terrible criminal act. Jason and Brandi Worley were the parents of two cute kids. Once their home was also a happy place. People always listened shouting and laughing sounds of Brandi Worley children. Tyler Worley was 7 years old and Charlee Worley was 3 years old, both kids were very cute and innocent indeed.
On November 17th, 2016 she killed her both kids Tyler and Charlee. No doubt November 17th was the darkest day when she stabbed innocent kids with a sharp combat knife several times. Finally, both kids died because of excessive blood loss and multiple stabbing from a sharp knife.
In addition to this, after killing her innocent kids, she tried to kill herself also with the same knife. Indeed, Brandi Worley case is a great tragedy for every sensible person who has a kind heart. Moreover, everyone wants to know about Brandi Worley motive behind these brutal murders of her kids. How a person can become that much disturbed and anxious that he/she becomes such cruel?
No one can deny the fact that kids are innocent and their cute smiles can melt anyone's heart within seconds. Moreover, she was 33 years old when she committed this brutal crime. Let's dig into this horrific story and explore this murder tragedy in more detail.
Reason Behind This Brandi Worley's Brutal Act
Brandi Worley mom of two cute kids and wife of Jason Worley was an ordinary woman. Moreover, both kids were happy, vibrant, and full of life. She also loves her kids a lot. Now, the question is what happened that a mother kill her children in a such cruel way?
Jason Worley Brandi Worley's ex-husband wanted a divorce from her. He filed for divorce and accuse Brandi because of cheating and extramarital affair with Brandi Worley neighbor.
In addition to this, Jason wanted to talk about the issue of children after divorce. However, he was not arguing and fighting related to the issue of children. He also loved his kids very much. Their tragic murders made him mad and extremely sad.
On the other side, Brandi Worley said that she killed kids now her husband will not take them from her. Indeed, every normal, sensible person will never accept Brandi Worley murders excuses. There is no excuse for any murder at all. Life is a God's gift and no one is allowed to kill anyone or end his/her life.
What Jason Worley Told About His Wife?
Brandi Worley Jason Worley married in August 2009. Furthermore, the couple welcomed their first child, Tyler in 2009 and Charlee in the year 2013.
As per Brandi Worley husband Reddit post, she was unfaithful to him and was involved in an extramarital affair. In addition to this, when he demands a divorce, she manipulates him because of kids to remain in the marriage.
Furthermore, he wrote that he felt that Brandi is cheating when she locked her phone with a password. Additionally, he said that she told me that she is keeping a secret from me and feeling guilty as well.
Jason Worley Wrote:
"She told me that she was having our neighbor, a contractor, build a home office for me as my present. It struck me as odd as in our 6 years together, she has never said she felt guilty about anything and always insists that she never regrets anything in her life."
Furthermore, he found some flirty messages which she sent to the neighbor who is building his office near them. Brandi Worley neighbor name is not confirmed. However, Jason again convinced himself that there is nothing serious, she can't hurt him.
Moreover, he installed one software on Brandi's phone to get access to her messages and location. The result was also quite hurting. He read the conversation between Brandi and his neighbor in his presence. In that conversation, they both confess their love for each other. Fuurthremore, Jason Wrote:
"But then they tell each other that they love each other and it is all I can do to not leap off the couch and knock him out. But I contain myself and continue reading the conversation unfolding in front of me."
In addition to this, he said that after all this he confronted her and asked her for a divorce. But, she blackmails him that she will use his previous suicide attempt against him. So, he will not be able to get kids' custody.
What Happened At The Day Of Murders?
No doubt 17th November 2018 was a normal day. They attend the dance recital for their daughter Charlee. On the other hand, Brandi and Jason filed a divorce a day before Brandi murders.
Everything was normal after attending Charlee's event they went home for dinner. However, Brandi said she wanted to visit the market to buy some pipe cleaners for Tyler's project.
Brandi stopped Charle to go to Tyler's bedroom where she hides that sharp big knife. First, she grabs Tyler and stabbed him numerous times with that knife. Charlee woke up due to the noise, but she slept again on her mother's order.
After this, she repeated the process with Charlee. Finally, both children left this cruel and merciless world and become lifeless due to excessive stabbing and blood loss. Jason was sleeping in the basement unaware that from now he will never hear his kids' voices again.
Furthermore, Brandi Worley call 911 and tell the dispatcher, "I just stabbed myself and I killed my two children." Brandi Worley 911 call was full of emotionless words that were surprising for the listener also.
But, the dispatcher didn't believe in the full Brandi Worley 911 call and asked Brandi's mom to check Brandi Worley kids. The kids' grandmother's screams woke Jason up who was in the basement.
Moreover, at this moment Brandi said to him in an emotionless voice, "Now, you can't take the kids from me"
At Greenlawn Cemetery, Darlington both kids Charlee and Tyler were buried after many days of their deaths. All people were in a phase of grief for these two innocent children's brutal deaths. Any murder case let us think that how a person kill anyone?
Due to the efforts of Philip DeFranco, YouTuber Brandi Worley murder case gets public attention. People also search about the Brandi Worley crime scene photos.
Where Is Brandi Worley Now?
Brandi Worley interview statements and her facial expression showed that she has no regret for her brutal act. Even when the court asked why Brandi murdered her own kids with such cruelty, she remains quiet.
After Brandi Worley trial due to the murder of her daughter, she got 65 years of a life sentence in court. On the other hand, she got 55 years life sentence because of the death of Tyler.
Harry Siamas, Montgomery County Circuit Court Judge said at Brandi's sentencing, "Sometimes there is no explanation. Darkness is in this world. … And it penetrates minds and our hearts."
Brandi Worley Today is in Indiana Jail for women due to her life sentence. Moreover, here she will spend the rest of her life. People are curious to know more about Brandi Worley Wiki, Brandi Worley phone call, etc. There is no news of Brandi Worley death. So, the answer to the query is Brandi Worley still alive is yes.
What did We learn from Brandi Worley Darlington Indiana Case?
After Brandi Worley sentence, Jason eagerly wanted to end his relationship with her. Therefore, he got officially divorced very soon after the tragic event of losing his kids.
There is no doubt that Brandi Worley videos and a whole Brandy Worley scene is clearly showing her mental health. Everyone in his life has numerous problems and sufferings. There are also several things that can trigger anyone. But, we must control ourselves and our anger, not do anything cruel and bad.
Sometimes people with anxiety and depression lose control. Moreover, this thing affects their decision-making ability. Brandi Worley Montgomery county case is a good example of such a mental state of a person.
She thought that killing is the only thing that keep her kids away from their father. No doubt she became emotionless at that time and Brandi Worley full 911 call is proof.
The Montgomery country Brandi Worley Reddit post and Brandi Worley Facebook are full of comments and people's responses. Moreover, people searching for a Brandi Worley murder scene, a Brandi Worley movie as well as a Brandi Worley documentary if available.
In addition to this, we can say that a person can suffer from mental health issues anytime. People must not pressurized themselves in any situation that their decision-making ability will suffer. We must control our anger and always try to sort out the problem in the best possible way. No doubt extreme anger is the bud of every crime.